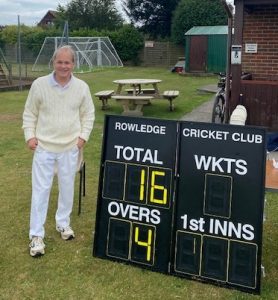 The Rowledge Casuals Cricket Club ('The Casuals') are primarily a social team and a part of the Rowledge Cricket Club for which you must as a minimum, be a social member. Our players range in age from juniors to 60+ with all abilities welcome!
We play cricket in a relaxed, not overly competitive manner, playing around 12-15 games from April to September weather permitting, against similarly minded local opposition. The games are usually restricted to 30 or 35 overs per team with batsman normally retiring should they reach 30 runs!
We play our home games on the Rowledge Rec or the playing fields of Binsted starting at 14:00. We aim to be back in the Hare and Hounds by 18:30 in order to consume a pint or two and the delicacies prepared for us!
As well as the Cricket, we arrange indoor winter nets and summer nets on the Rec, along with social events through the year such as the Watercress line Beer run, skittles at the Jolly Farmer, BBQs, golf days and the Christmas pub crawl!
We charge £15 annual subs and a £10 match fee to cover pitch fees, teas, new club kit and balls, and a subsidy for The Casuals EoS dinner.
If the above appeals and you fancy playing just the odd game or regularly through the summer then please get in touch.
Jonathan Doland (Casuals Chairman)
Rowledgecasuals@gmail.com
Captain: Dan Williams
Tel: greenenergybrokers@hotmail.co.uk
There are no upcoming events to display at this time.