Welcome to RCC Summer training. Please see below for each year group schedule and coach contacts.
For Friday evening coaching please deliver and collect your child to the location shown in the diagram below. Please drop off at 6.25pm for a prompt start and collect at 7.30pm prompt (or 8.00pm for U11+)!
Notes:
Y2 training takes place at Rowledge Primary School playing field. Please drop off and collect from here
U11 boys to Frensham Heights Sports field
U11 & U13 girls (hardball) will be sent a Teamer invite each week stating either they will be at Frensham Heights School or at the Rec nets.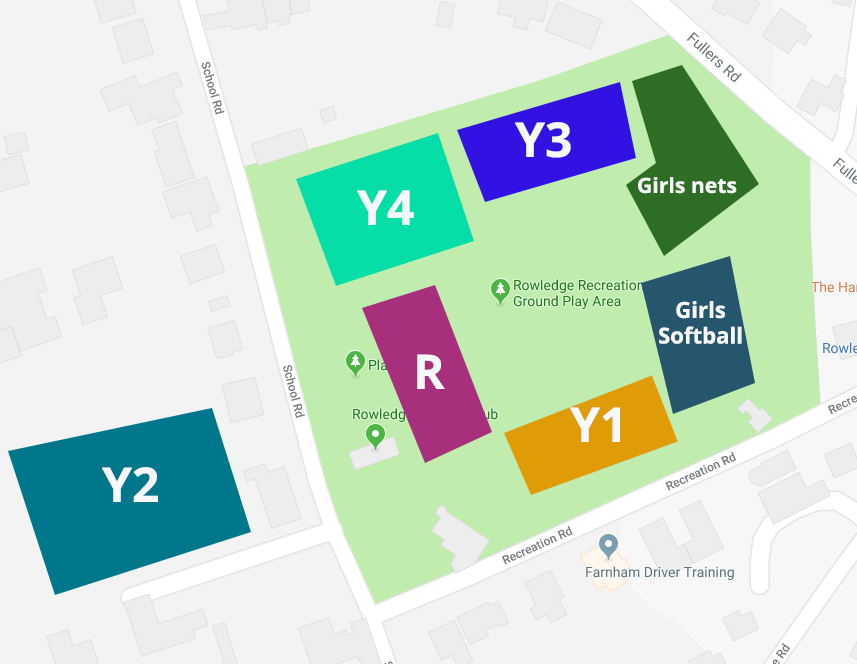 | Year Group | Venue | Day | Time | Ball Type |
| --- | --- | --- | --- | --- |
| Reception | Rowledge Rec | Friday | 6.30pm to 7.30pm | Tennis balls |
| Year Group 1 | Rowledge Rec | Friday | 6.30pm to 7.30pm | Tennis balls |
| Year Group 2 | Rowledge School | Friday | 6.30pm to 7.30pm | Tennis balls |
| Year Group 3 | Rowledge Rec | Friday | 6.30pm to 7.30pm | Tennis balls / Incrediballs |
| U9s (Y4) | Rowledge Rec | Friday | 6.30pm to 7.30pm | Tennis balls / Incrediballs |
| Boys U11s (Y5 & 6) | Frensham Heights School | Friday | 6.30pm to 8.00pm | Incrediballs / Hard ball 4 3/4oz |
| Girls U11s (Y5 & 6) | Rowledge Rec | Friday | 6.30pm to 7.30pm | Incrediballs / Hard ball 4 3/4oz |
| Boys U13s (Y7 & 8) | Rowledge Rec | Tuesday | 6.30pm to 8.00pm | Hard ball 4 3/4oz |
| Girls U13s (Y7 & 8) | Both Rowledge Rec & FHS - Check Teamer | Friday | 6.30pm to 7.30pm / 8.00pm - Check Teamer | Hard ball 4 3/4oz |
|  Boys U15s (Y9 & 10) | Rowledge Rec | Wednesday | 6.30pm to 8.00pm | Hard ball 5 1/2oz |
| Girls U16s (Y9 & 10 & 11) | Frensham Heights School |  Wednesday |  6.30pm to 8.00pm |  Hard ball 5oz |
| U18s | Rowledge Rec | Thursday | 6.30pm to 8.00pm | Hard ball 5 1/2oz |
| Year Group 2019 | Coaches |
| --- | --- |
| Reception | TBC |
| Year Group 1 | TBC |
| Year Group 2 | Adam Eaton & Alex Trompter |
| Year Group 3 | TBC |
| U9s (Y4) | Martin Harper & Gareth Thorburn |
| Boys U11s (Y5 & 6) | Benj Chilcott & Adam Turl & Martyn Jagger |
| Girls U11s (Y5 & 6) | Neil Gregory |
| Boys U13s (Y7 & 8) | Richard Corfield & Chris Finney & Simon King & Richard Cocks |
| Girls U13s (Y7 & 8) | Simon Brisbourne & Fraser Wilson & Danielle Gregory & Ryan Gregory |
| Boys U15s (Y9 & 10) | Steve Martin |
| Girls U16s (Y9 & 10 & 11) | David Lloyd & Shaun Bradbery |
| U18s | Chris Yates & Simon Clarke |