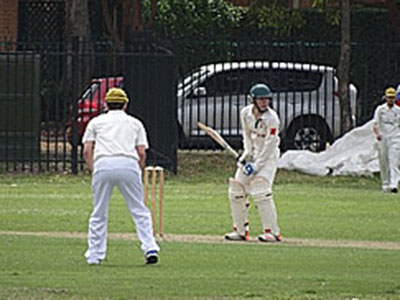 We are delighted to welcome our new overseas player Fraser Wilson to Rowledge Cricket Club.
Autobiography of Fraser Wilson's cricket career.
After beginning my childhood playing baseball for my local club, I begun playing cricket aged 9 in the Under 10's competition and immediately fell in love with the game. From under 10's until Under 15's I played for my local Sydney team, Kissing Point Cricket Club leading the competition for runs for 2 years. This included playing for the local district representative team from Under 10's until its last season in Under 16's, captaining the team for two years and holding the record with one of my best cricketing mates for the largest partnership in the annual district representative games' history.
I moved to Knox Grammar School in Year 7 aged 12, and by Year 9 (aged 14) I was playing in the First XI for Knox Grammar School (one of Sydney's largest all male schools). This was my breakout year for cricket, playing in the U15 NSW Cricket Academy, as well as touring England with my school. Following winning the CAS (Sydney schools competition) premiership in the 2015/16 season, I was given the honour of captaining the First XI in my fourth year in the team and final year at school. During this I scored 103 versing local school Cranbrook and although experienced a total of 5 out of 10 games being washed out due to rain, I enjoyed the year with a great bunch of mates and created a culture where everyone felt free to play their own game within the team, during this 2017/18 season in Australia.
I am now playing for local Premier grade cricket club Gordon. While being interrupted due to needing to focus for my final HSC exams, I have so far scored 375 runs @ 31.25, with one round game remaining and finals guaranteed, with our team coming in second place on the ladder, trailing first place by one point.
Personal:
I live in a family of 6, including 4 children (two older sisters aged 23 and 21) and a younger brother aged 14. I grew up in Turramurra, a small suburb about 40 minutes drive from the CBD of Sydney. I currently work 5 days a week in an organic food store named Flannerys, trying to save up money for my trip over. Once returning to Australia after the English summer I am going to attend university and study a Bachelor of Business and Commerce. In my spare time I love to go to the beach, ride motorbikes and quad bikes, as well as being a keen rugby player (though subsequently retiring this year after gaining too many injuries from it.)
I am feeling extremely honoured to have been given this opportunity and I am looking forward to coming across to play for Rowledge Cricket Club and experience playing men's cricket in England, hopefully developing my skills and experiences as a cricketer, but also as a young man.